Human Augmentation. Definition, 4 examples & impact. What is human augmentation? What are examples and techniques of human augmentation?
What is human augmentation?
Human augmentation focuses on cognitive and physical improvement by adding or expanding (bodily) functions with the help from technological means [link below].
An example of cognitive improvement is a headband that stimulates certain brain areas for more focus and concentration. The use of a bionic lower leg to be able to run faster or jump higher is a physical improvement.
Summary
Following is an enumeration concerning the most important points.
The essence of human augmentation is adding or expanding functions to the human body. The term is often used in a work and employee context.
Categories are: replacing limbs or body parts (using prostheses), supporting the body (using for example exoskeletons) or improving physical or cognitive functions.
The most potential category is human-machine co-operation; an example is brain-computer interfaces.
A majority of European citizens are benevolent towards human augmentation. The biggest concerns are the power of companies, the risk of getting hacked and inequality in society
To benefit from the advantages given by human augmentation (for employees, citizens and society) a better legislation is needed.
In this article, these points will be discussed substantially with more insights.
Explanation human augmentation
I have posted a video about the most important ideas and insights on my YouTube channel:
Structure
The article is build up in the following way:
Concluding is a list of resources, more information about how to hire me and an opportunity to leave a question or remark as a comment.
What is the definition of human augmentation? What is the difference between human augmentation and other terms like human enhancement, biohacking and transhumanism?
Definition human augmentation
The term human augmentation is often used in the same context as human enhancement, biohacking and transhumanism. There is a significant overlap between these terms, but I will try my best to distinguish them.
Human enhancement: improving the human body and/or performances
Biohacking: the self-improvement (DIY) of the human body using (experimental) technologies
Transhumanism: a speculative philosophical movement that aims to break through the biological boundaries of the human body.
It is possible to find other definitions in books, other blogs or from other experts, yet this is the distinction I use.
Difference augmentation and enhancement
The distinction between in particular human enhancement and human augment is the most diffuse. These are the biggest differences from my perspective:
Human augmentation is about adding or expanding functions to the human body. Regarding this distinction, genetic modification is therefore not categorized as human augmentation, but human enhancement. It is an improvement, but not an extension or addition. (In some imagination, genetic modification might be seen as human augmentation. This is in the fictional situation where it is a possibility to grow a tail or wings through gene modification)
Another important difference is the context in which the terms are used. The term human augmentation is mostly used in work situations, whereas human enhancement is a more common term in political, social and scientific discussions.
Moreover, my blog contains an extensive article about human enhancement including much attention to the social and political impact of these developments.
Augmented Humans
In 2021, I made a video about the Augmented Humans Conference. This is a conference for scientists to present their papers, research findings and technologies. You can also watch the video on my YouTube channel.
Commercial opportunities human augmentation
More and more companies and organizations notice the market opportunities of human augmentation. This will be illustrated on the basis of three companies:
Gartner
Kaspersky
Accenture
Gartner
Gartner publishes a report each year with the 10 most important technology trends. In the 2019 autumn edition, human augmentation had its first occurrence [link below]. Besides human augmentation, the researchers mentioned well known developments such as cloud computing, blockchain and artificial intelligence.
The researchers even expect a BYOE-policy to be introduced in IT-organizations. Besides BYOD, which means 'bring your own device', employees are allowed to use their own enhancement at work under BYOE. Expected by Gartner, this will be allowed at 30% of IT-organizations by 2023.
Kaspersky
Another company to notice the potential of human augmentation is Kaspersky, which is a Russian service provider of anti-virus software and information security.
I was approached in August 2020 by Kaspersky LAB, a section of the company that focuses on future explorations, brainstorms and strategic analyses.
The company Opinium Research had performed a research in July 2020 under more than fourteen thousand European inhabitants, including France, Germany, the United Kingdom and the Netherlands. Further throughout this article, at section Impact, I will recur to a number of results from this sample.
We just have started if it comes to human augmentation

Kaspersky Labs Report
Moreover, the reason Kaspersky approached me was to clarify and explain the results of the research. Two of my colleagues were however chosen, professor Julian Savulescu (see my interview with him here) and Zoltan Istvan.
It does not take away from the fact that Kaspersky sees the (commercial) potential of human augmentation. The conclusion from their report accordingly is: 'We just have started if it comes to human augmentation. The debate about the opportunities and risks arises and will develop the coming decades.'
Accenture
Improving productivity is the main reason for companies to automate their processes. Nonetheless, James Wilson and Paul Daugherty from Accenture in Harvard Business conclude that replacing staff yields profit mostly in the short term. Car manufacturer BMW reported an improvement of 85% productivity after replacing a fully automated process by a team consisting of humans and robots.
That is the essence of human augmentation: not to replace humans by robots, but have machines that expand and improve the human possibilities. As you will read below, we are still at the start. Especially regarding the brain-computer interfacing (more about this in the section on human-machine collaboration).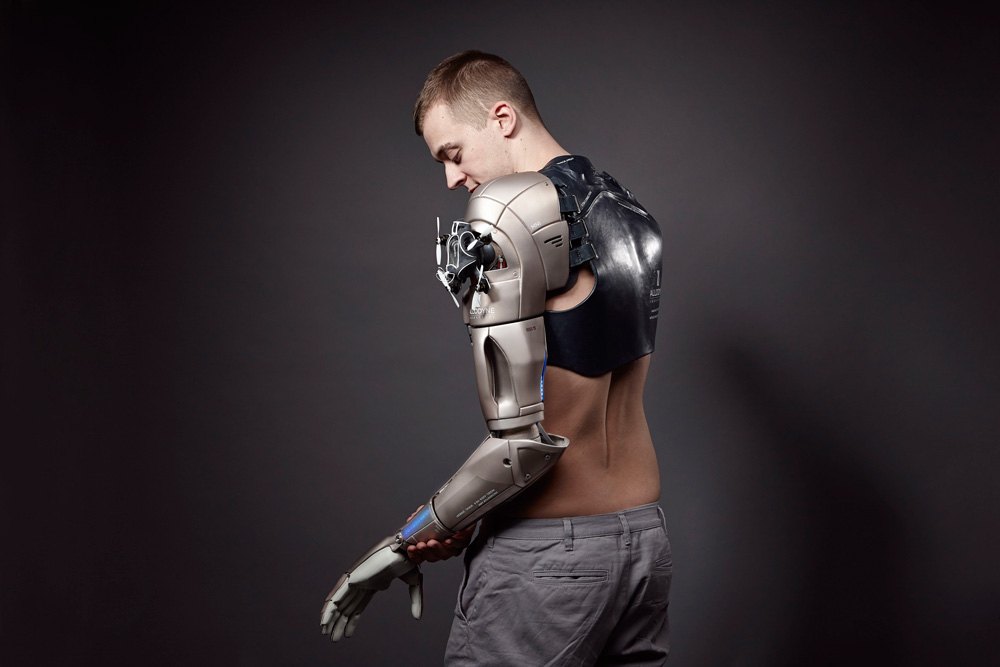 In this part I will describe a few examples of human augmentation.
Examples human augmentation
Because human augmentation is a broad term, I will distinguish between replacing, supporting or improving human functions, and human-machine collaboration.
As stated in section Definition, I focus mainly on employee applications.
1. Replacement using prostheses
A prosthesis is an artificial replacement of a body part, an organ or a part of an organ. A prosthesis is basically external; it is located on the outside of the body. An internal prosthesis is often referred to as an implant.
This part starts with a description of a number of famous prosthesis wearers, such as Hugh Herr, Oscar Pistorius, Markus Rehm, Kimberly Alkemade, Jason Barnes and Tilly Lockey. Afterwards I describe a few visions for the future about further development and use of prostheses.
Hugh Herr
Hugh Herr is a professor at MIT and an enthusiastic mountaineer. He has two leg prostheses as both his lower legs from the knees onwards had to be amputated due to freezing cold. It did not stop him from still climbing and in addition it gave him a reason to study about biomechanics.
He is now the leader of the Center for Extreme Bionics at MIT [link below]. The Center does not only focus on the mechanics of prostheses (limb replacement) and orthoses (limb supportment), but on neurological control of these as well.
Athletes
The remarkable thing about Hugh Herr is his ability to do specific climbing routes due to his artificial feet, ankles and calves, where climbers with natural limbs fall short. The moment Paralympic athletes will be better than regular athletes is approaching quickly. Two examples are:
In 2012 in London, South African Oscar Pistorius was the first amputee athlete to compete at the Olympics.
German long jumper Markus Rehm has a normal leg as well as a prosthesis. He won the national championships in 2014 and was therefore nominated for the European championships. The German sports authorities denied his entry though, as they believed it was a case of unfair competition.
Nowadays the rule is that paralympic athletes must prove their prostheses give no unfair advantage. When Pistorius competed at the Olympics, the rules still were different. The burden of proof laid with the sports federations back then. It is also the reason we rarely see paralympic athletes taking part in regular matches anymore. It is practically impossible to analyze how (dis)advantageous a prosthesis is. Paralympic athletes do occasionally participate in regular matches, but it is mostly outside of competition.
Kimberly Alkemade
Dutch Kimberly Alkemade was involved in a traumatic bus accident at the age of 8. On a holiday to Spain, the driver ran into a traffic jam. Her mother died; her father and older brothers were slightly injured. Kimberly was severely injured however. She got a base fracture of the skull, her left thigh was broken and her left lower leg had to be amputated.
It was tough to rebuild her life. An important moment was when she met orthopedic instrument maker Frank Jol. He is specialized in producing and fine tuning prostheses for top athletes. A better prosthesis ensured Kimberly to be 'physically and mentally stronger' according to herself.
She participated in a paralympic talent day in October 2017, resulting in being scouted by the athletics coach. The year following she already became Dutch champion in her 100 meters discipline. She is a full time athlete in the IPC T64 class, which stands for women with a single amputation.
Jason Barnes
Besides examples within sports, Jason Barnes' story caught my eye. His forever ambition was to become a musician, until he lost his hand while cleaning a device during his side job in a restaurant. Despite not being able to drum as well as before the accident, he was still allowed to study at the Atlanta Institute of Music and Media in Georgia, United States.
One of his teachers, Eric Sanders, introduced him to Gil Weinberg of the Georgia Institute of Technology. Sanders' research group put together a plan to make an arm for Jason to get back on his old level of drumming, or even higher.
Tilly Lockey
British Tilly Lockey lost both her lower arms after a meningitis. Since 2016 she has been wearing bionic arms from Open Bionics (link below). Her new arms, titled Hero Arms, allow her to paint and do her make up.
Through appearances in media and on stages, she is one of the most known ambassadors of prostheses possibilities. For example in early 2019, she was present on the red carpet of the premiere of the movie Alita: Battle Angel.
James Young
British James Young lost an arm at the cause of a rail accident. In 2016 he saw a newspaper advertisement asking people with one or two amputated arms to respond. You had an edge if you were also a fan of computer games.
Konami, manufacturer of the computer game Metal Gear Solid, came up with a publicity stunt to recreate a prosthesis from the game. A team consisting of 10 experts, led by Sophie de Oliveira Barata, produced Young's prosthesis. The prosthesis was presented at a biohackers conference in the United States [link below]. The artificial arm was made of carbon fiber and had cost over 60.000 pounds.
Future prostheses
The biggest challenge concerning prostheses is the connection to the human nervous system. Are you able to sense and feel as much with a prosthesis as a natural hand? Can you move your legs the same?
Early 2020, American doctors announced in Science Translational Medicine they connected a hand prosthesis to the nervous system for four patients [link below]. Joe Hamilton is one of the patients: 'It's like having a hand again. With the prothesis you can do almost everything you can with an ordinary hand.'
It's like having a hand again. With the prothesis you can do almost everything you can with an ordinary hand

Joe Hamilton (research subject)
Cognitive neuroscience professor Nick Ramsey from Utrecht commented on the research in the Volkskrant [link below]. He is enthusiastic, although he reckons it might take a while before these robot hands arrive on the market. For instance, the wires between the nerve ends and the artificial hand are 'a highway for bacteria'. Because of this, wireless connections are seen as the next step by researchers.
Better-than-natural?
Oscar Pistorius, Markus Rehm and Jason Barnes seem to have better-than-natural capabilities with their prosthesis. This is also the future according to Samantha Payne, founder and director of Open Bionics. She expects it will not take long before artificial limbs are better than natural ones.
A statement like that raises a variety of questions for me. Because what if I am confronted with the loss of a limb, like a hand? Will I be able to choose a version similar to my natural hand? Or do I choose an improved hand? For example a much stronger hand and all fingers can turn like a thumb.
Another step further is the question whether there are people willing to trade their natural limb for an artificial one. Let's call that voluntary amputation. I cannot imagine that at all, but it possibly is a normal question for future generations (and for some occupations).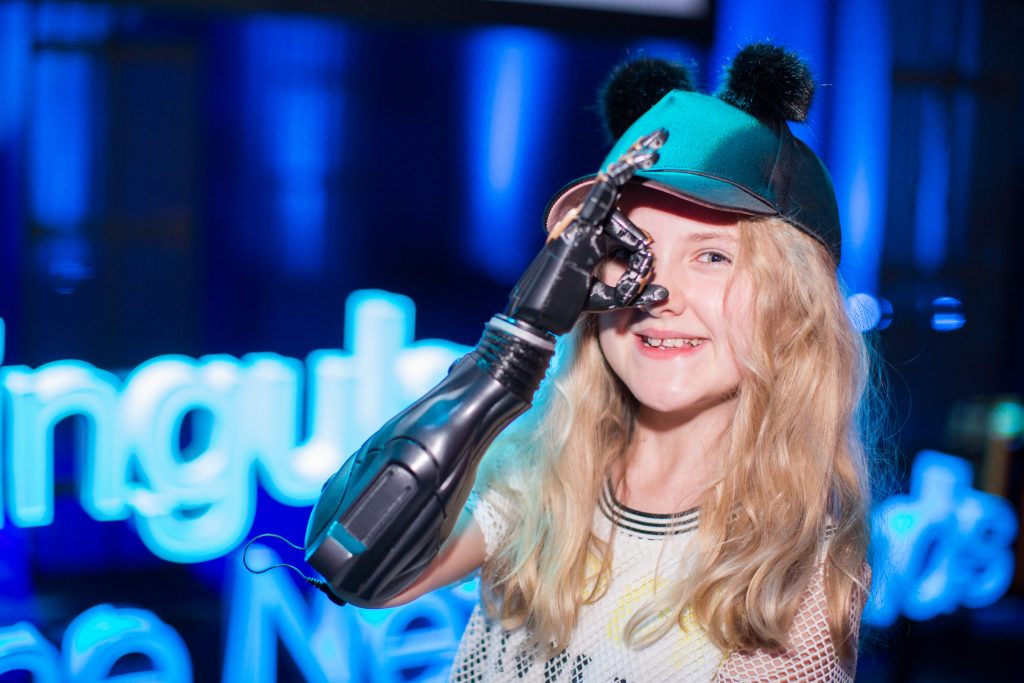 2. Support using exoskeletons
An exoskeleton is a mechanical support, an external skeleton or armor, that is worn on the exterior body. The artificial muscles receive current from a central battery or accumulator. Sensors detect the movement of the user. A small computer converts the movement into instructions for the mechanical artificial muscles to support the user.
Paraplegic patients
Some patients, for example paraplegic, wear an exoskeleton to learn how to walk again. In the Netherlands Ruben de Sain, Sjaan Quirijns and Dennie Jager are well known examples.
Ruben de Sain was able to afford an exoskeleton with the help from crowdfunding [link below]
Sjaan Quirijns is the captain of the team Project March [link below], which is an annually varying team of TU Delft students who want to develop exoskeletons further.
Dennie Jager is the founder of Stichting Walk On. He suffered from a spinal cord injury after a moped accident at the age of eighteen. An interview with him can be found below.
The technical universities of Delft (with Project MARCH) and Twente (with Symbitron) work on the further development of exoskeletons in teams.
Employees with exoskeleton
Patients are not the only people wearing an exoskeleton. More and more organizations offer this technology to their employees.
In Ford factories, some employees wear an EksoVest [link below]. The vest offers approximately 10 kilograms strength support for each arm.
The Sarcos exoskeleton supports lifting and moving materials up to 90 kilograms. The United States Navy and Delta Airlines are testing prototypes of Sarcos [link below].
Lockheed Martin worked on the development of the HULC-exoskeleton and later on the TALOS [link below]. It was meant for heavily packed soldiers to march for a longer time, but thus far it is not in use.
The Dutch Navy uses exoskeletons from Laevo [link below]. The suits are nowadays mainly used in warehouses and workshops.
Italian manufacturer Perceptual Robotics Laboratory produces the Body Extender. This suit supports the user up to 50 kilograms in each arm.
Japanese manufacturer Cyberdyne produces the suit HAL to unburden medical staff and help patients to move.
According to market researchers of Businesswire, the overall market size currently totals to more than 126 million dollars [link below]. They expect a growth to 1.9 billion dollars in 2025. The most important customers are industrial companies and military organizations.
Future exoskeletons
What surprised me in the conversation with Dennie Jager is that the current exoskeletons are not as sophisticated as expected. If he presses a button, the suit will walk forward. We are not yet at the point where the suit is attached to his nerve system. In that case he would be able to control the suit with his brain, which is remotely similar to the way healthful people walk.
Yet the first experiment in which a patient could control the exoskeletons through brain signals has already occurred. In late 2019, scientists of the University of Grenoble (France) reported about their project in The Lancet [link below].
Brain implants
During an operation, Thibault, the test subject, had received two implants in his brain. Those implants, each including 64 electrodes, were placed on the parts of the brain that control movement. Software converted the brain signals into instructions for the exoskeleton.
Nevertheless it was not a plug-and-play, which would mean he could operate the exoskeleton immediately after placing the implants. Thibault has taken months to train before he was actually able to control the suit. Despite that, the combination of multiple technologies, in this case neurotechnology and exoskeletons for example, is a development that leaves me optimistic.
Further development
How do I vision the further development of this technology? Scientists will firstly develop it for patients. Applications for healthful people, for practicing their profession for example, will follow thereafter.
Subsequent iterations will hopefully not need invasive methods such as brain implants. Scientists are also working on brain-computer-interfaces (BCI) at which the brain signals are read from the outside. You can read more about this in the section about Human-machine collaboration.
3. Improvement
Technology can help us improve and extend our senses, or even add new sensory experiences. Improving senses is something we have done for ages. Think about hearing aids for better hearing and glasses for better sight. It gets more exciting when talking about extending senses or adding new ones.
In this section, a few examples will be shown, such as a powerful glove, smart contact lenses, new senses and upgrading intelligence.
Super glove
As told, human augmentation is about improving human functions using technology. A fun example is extending the power in your hands. General Motors has developed the RoboGlove. This glove multiplies the power of the wearer. Sensors on the fingertips of the glove give back feedback of what they sense to the wearer as well.
General Motors wants to use the glove in their factories. The glove is not completely new though. The team worked on the Robonaut with NASA earlier, a similar glove that has been used since 2011 on the International Space Station.
Watch a video about the RoboGlove below:
Smart glasses and contact lenses
The Netherlands consists of about three hundred thousand people who are blind or visually impaired. Technological innovations continuously make the world more accessible for this group. Start-up Envision for instance makes software for object recognition and video calling for blind and visually impaired people [link below]. The software runs on the Google Glass 2 glasses.
This is firstly suitable for people who have no vision or bad vision, but afterwards it can be applied in companies as well. Employees will receive information or instructions through sight or hearing when they are working in a factory, stockroom or a different workplace.
Another step further from smart glasses is a smart contact lens. The company Mojo Vision presented a smart contact lens early 2020 at the CES conference [link below]. This lens uses augmented reality and shows images to the wearer. The company first of all thinks about applications like health data. The company's biggest challenge was to provide energy to the lens and send data to the lens wirelessly.
The best known example in this product category was Google. The project goal was to measure the blood sugar of the user through the lens. In 2018, Verily, Google's sister company, announced they would stop further development of this lens. They do continue developing smart contact lenses for other diseases though.
David Eagleman
Scientifically, brain researcher David Eagleman is the most progressive within this area. This Stanford professor is expertized in qualia. Qualia are qualitative characteristics of the observation, for example taste and color.
According to Eagleman, the brain does not make a distinction between signals coming through the ears, eyes or touch. Whether it is sound, sight or feeling in your fingertips, the brain cannot distinguish that information. The nerves in your fingers register a stimulus, convert it to an electrochemical signal and send it to the neurons.
Sensory replacement
At first sight in the brain, you cannot see you feel something. The brain cells only show small electrical peaks. From the outside, the signal looks the same as from another data cable, like your nose or ear. The brain is truly a wonderful organ: those peaks, or rather the patterns inside, is everything it needs.
The brain has learned to interpret the pattern and transform it into what you experience: image, sound and feeling. The pioneer in this area of sensory replacement is Paul Bach-y-Rita. In an interview with New Yorker, he states it as follows: 'You don't see with your eyes. You see with your brain.'
You don't see with your eyes. You see with your brain

Paul Bach-y-Rita
The brain is flexible, or rather: plastic. This means the brain can adapt itself to the circumstances. It is able to process signals, regardless of the origin of the pulses. An example is Brainport, a lollipop which enables blind people to see. The installation consists of two parts, a camera and a plastic lollipop with a grid of four hundred electrodes. Dark colors are a higher electric shock, light colors are lower.
Blind on the Mount Everest
Erik Weihenmayer, the first blind person to have climbed Mount Everest, has used the Brainport for years. In an interview he describes he 'senses bubbles on his tongue' and can see with them. The brain is not directly capable of processing new patterns. Erik had to train with the sight-lollipop for days.
I can see again by feeling small bubbles on my tongue

Erik Weihenmayer (blind)
The plasticity of the brain offers opportunities. Eagleman predicts we will be able to pierce new types of data streams into the brain within the near future. These data streams do not replace our current senses, but rather feel like completely new sensations. As an example he mentions operating a drone. A pilot would be able to feel the height, movement, balance, speed and rotation angle of that drone. It is beneficial for the pilot to not have to pay attention to many meters and indicators, but rather be able to handle the drone much faster and more intuitively.
NeoSensory
Besides working as a scientist, Eagleman therefore started the company NeoSensory. They produce vests and wristbands to convert inputs like image and sound into vibrations. At the TED 2015 conference, Eagleman presented a prototype of the sensory vest for the first time. He displays test subject Jonathan who, after two weeks of training, is able to feel words through the vibrations in his vest.
If you ask me, the highlight is around 15 minutes into the presentation. He tells us about how his team has collected the tweets with the hashtag TED2015 since the first conference. Using software they create an automatic mood analysis. This means: do the Twitter users use positive, negative or neutral words? Eagleman's vest translates the average mood on Twitter about the conference into vibrations. During his reading he is therefore able to feel the emotions about his contribution. Afterwards he gets a standing ovation, which would have told him enough as well.
Watch the talk:
Wristband buzz
At the moment NeoSensory offers the wristband Buzz [link below]. The Buzz converts sound into vibrations. After a while your brain learns to interpret the vibrations better and better. According to the company, you have added a 'new sense' then. The company firstly focuses on the deafness of patients with hearing disorders. Although it is expected you can modify the input, in order to be able to detect all kinds of other things. Eagleman regards, besides the previous example of drone pilots, the following applications:
molecular smell detectors to smell better, perhaps as well as a dog;
to give bio data to a surgeon, such that they will not have the check the monitors continuously
These are eminently examples of human augmentation techniques. Employees will probably use similar techniques in ten or twenty years time, both in occupations and in situations we cannot imagine yet.
Communicate using feeling
In the Netherlands, TNO is working together with Defence on a similar technology. Professor Jan van Erp, also connected to University Twente, speaks about it in a broadcast of the series De Toekomst is Fantastisch. He spoke about a belt that works with haptic feedback.
The prototype works as follows. The soldier wears a belt containing small motors that can vibrate. A different soldier, for example the mission leader, can give signals converted into vibrations. Consider applications such as a short vibration to indicate the desired direction or a longer vibration to warn about danger from that angle.
Dutch soldiers with a smart vibrating belt
The haptic observation is quieter and probably also faster, especially when the soldiers are suitably trained. Besides military applications, I can imagine other occupations to use it, especially where fast reactions and safety are important. Consider operators of heavy machines (to let them feel where the machine is located), air traffic controllers (to draw attention in critical situations) or prison officers (to notice commotion quickly).
Intelligence
Technology has already supported our human intelligence for centuries. With some imagination you can say the printing press is one of the first respective examples. To look up information in a book expands your knowledge. From that perspective, the internet, for example you reading this article, is a form of support of human intelligence as well.
However, it is probably not the first thing you think about considering human augmentation technology. My association is in particular with artificial intelligence, a development of computers and software taking over certain (cognitive) tasks of us. I have written an extensive article about artificial intelligence before.
Artificial intelligence sounds far away, but it is not. It is already plenty in use by employees. Think about a driver with Google apps, an author with a translation program or a chess player with chess software.
Artificial intelligence also plays an important role in the previously mentioned technologies concerning human improvement. Algorithms help to improve the directing of exoskeletons, to fine tune prostheses more accurately for each patient and to interpret brain signals (which is useful for brain-machine interfaces in the next section).
Future
The use of technology to support us cognitively as a human is also called 'intelligence amplification' (IA). According to Harvard Business Review smartphones can be classified under this category, likewise smart speakers such as Amazon Echo, Microsoft's Cortana and Apple's Siri.
The author observes another next step in this, at which intelligence-supporting technology becomes continuously smaller and easier. A few examples concerning the business world:
Smart earphones, like the Airpods from Apple, that you as a user can give commands to or that can translate a language immediately. Bragi, a German manufacturer of smart earphones, is working together with IBM to unlock Watson artificial intelligence quickly through speech.
Wolverine is the name of an innovation project from Alfabet, Google's parent company. A hearing aid that should give the wearer a super hearing, with the help of powerful microphones and artificial intelligence [link below]. For example, the idea is that in a large group you can focus your attention very specifically on someone to only hear their voice.
Smart glasses with augmented reality to show additional information. Toyota uses the Hololens from Microsoft in her factories for certain tasks, like showing the color in which the car must be sprayed.
The AlterEgo is a headset that allows you to communicate with your smartphone or computer without talking. This form of communication might be helpful in some professions, such as in the event of a war or at certain operations.
Criticism
Sometimes I ask myself whether the use of technology perhaps makes us as humans dumber rather than smarter. Intelligence is of course a broad concept, but it takes spatial insight. Early 2020 scientists published their research about the influence of navigation apps on the human brain. The first careful conclusions based on that and research is that the brain can get lazy because of those apps [link below].
The same could be said about smart earphones.If it directly translates a foreign language to your own, does this mean we do not have to learn other languages anymore? If so, do we even need the subjects German and French at high school? Or is learning another language valuable for other (cognitive) skills as well?
Briefly, technology can make us smarter as humans. Although I think it will never withstand us from the efforts to think and learn ourselves.
4. Human-machine collaboration
The final category is human-machine collaboration, in which I will make a distinction between non-invasive and invasive methods. In both cases I will begin with the current research, mostly in the health care, followed by applications in the business world.
Brain-computer interfaces
The goal of brain-computer interfaces is to read brain signals and use them to operate a computer or machine. Currently medical scientists are mostly working on applications to patients who can communicate harshly or not at all. An example of such a condition is the locked-in syndrome. It is a rare neurological disease in which the body is paralyzed, except for the eyes.
Patients having locked-in syndrome are often able to move their pupils or blink their eyes. By converting these signals into code, just like for example Morse, they are remotely capable to communicate with the outside world. In some cases the patients have no control over their eyes though. This is spoken about as 'complete locked-in'.
Locked-in syndrome
Scientists are researching whether this group can possibly communicate with doctors and family by reading brain signals. The first corresponding experiments have been successful, whereby patients thought about 'yes' or 'no' and the computer was able to read and recognize this.
Other scientists, from Carnegie Mellon University in Pittsburgh, have demonstrated it was possible for test subjects to operate a robot arm using their brain signals [link below]. This was seen as a breakthrough. Normally implants were placed in the brain to pick up the signals. Placing implants is a costly procedure that requires a substantial amount of surgical knowledge and entails serious risks for the patient.
On the exterior of the skull you are less able to measure the signals. The team of researchers have solved it with the use of powerful machine learning algorithms. Those convert the sensordata into motoric input for the robot arm.
Business world
Will brain-computer interfaces also be used in the business world? A few start-ups are working on headsets which let you operate software using brain signals. In an article in Wired, the founder of company NextMind shows his insights: Sid Kouider [link below].
According to Sid's vision it starts straightforward: using your thoughts, you can send a text or select a specific photo in your smartphone. The ultimate goal sounds like science fiction: 'Controlling all kinds of devices around you.'
The ultimate goal sounds like science fiction: 'Controlling all kinds of devices around you.'

Sid Kouider (founder NextMind)
The NextMind is a strap you put on the back of your head. On top of the strap is a receiver the size of a large ice hockey puck. Underneath the puck are sensors that pick up the brain signals. After calibration the NextMind is good to go. At first the applications are simple, yet witty – using your brain waves you shoot on ducks in Duck Hunt or you change the TV channel with your thoughts.
I made a video with a demonstration and review of the NextMind:
Facebook and Muse
NextMind is not the sole company working on brain-computer interface. Another promising startup is CTRL-Labs. They launched a comparable kit in 2019. Their device captures the nerve signals in a bracelet. Facebook bought the company for nearly 1 billion dollars in September 2019.
I have my own experience using the headband made by Muse [link below]. They place sensors to capture brain signals at the front side of the head. Using this, they measure the quality of meditation. As the user you get feedback about how well you are meditating through the sounds of an ocean or forest. In the case of the ocean: the better you meditate and the more focused you are, the calmer the waves are.
Finally, besides applications for consuments, the United States Army is interested in this technology as well. Under the N3 program, defining Next Generation Nonsurgical Neurotechnology, DARPA researches whether they can use non-invasive BCI to operate vehicles and weapons.
The United States Army wants to use non-invasive BCI.
Brain chips
NextMind, CTRL-Labs, Muse and DARPA are all organizations working on non-invasive methods. This implies that the sensors stay on the outside of the skull. A different, more radical form is invasive technology. The electrodes enter the skull in that case.
Theoretically it allows signals to be picked up, transmitted and sent back to the brain more accurately. A few companies, such as Kernel and Neuralink (with Elon Musk investments), work on this technology. I have written an article about this: Neuralink and Elon Musk.
Potential BCI
The potential of brain-computer interface is large for three reasons. First of all a faster and more precise control of robots and machines yields a higher productivity and lower costs for companies. A second reason is the rapid progress in sensors, artificial intelligence and neuroscience. Thirdly, because of investments from Facebook and Neuralink, a lot of resources are available, which attracts more talented scientists and engineers.
In the short term I think non-invasive methods will be used much sooner by companies and employees. A headband to control a machine or robot allows you to take it off, for example when taking a break or going home. One can also argue it is a (comprehensively) big step to insert technology into the body. Especially considering the brain.
Yet it might totally not be an issue for future generations. More about this in the section about Ethics.
In this section, I will describe applications and the impact of human augmentation.
Impact human augmentation
As read in the previous section, human augmentation technologies rarely originate from the business world. The most important origin is health care, where medics and scientists work hard to find solutions to cure patients. Over time, healthy people will try to improve themselves using the same methods or techniques.
Take for example Epo. The hormone Erythropoietin, in short Epo, is used for oxygen deficiency caused by the kidneys and encourages the body to produce red blood cells. Specialists sometimes prescribe it for patients with end-stage renal failure, whereas top athletes, especially professional cyclists in the nineteen-nineties, used the same hormone to improve their sports performance.
The same means, different goals
We might see the same line in coming years regarding prostheses, exoskeletons, extended senses and brain-computer interfaces. These examples of human augmentation are all still mainly situated in medical innovation, helping patients as the goal. As Epo shows, it is probable non-patients will use these techniques over time.
The following groups are or will be impacted by human augmentation:
The impact on each group is described below.
Employees
Employees are the second group that will quickly come in contact with human augmentation. The term 'Augmented human' assisted me to look at this conceptually. A group of scientists of the University of Tampere (Finland) have written a paper about this subject in 2019 [link below]. Their statement is that augmented human is a new paradigm, for example as follows:
Numerous sensors and cloud data deliver information. Artificial intelligence filters this information and makes sure the information is presented in an easily comprehensible way to support human cognition in a timely manner.
Physical tools or robots enable actions and changes in the environment.
To me, the paradigm of the augmented human clarifies the added value for companies. The first category is about unlocking better data and more information. This is cognitive support or improvement, similarly to brain-computer interfacing. The second category is about physical support, such as with prostheses and exoskeletons. A hybrid is imaginable as well: for example controlling an exoskeleton with the use of brain-computer interfacing.
Citizens
Like I mentioned before, in the summer of 2020 Kaspersky Lab approached me. This branch of the Russian anti-virus company conducts explorations, organizes events and publishes reports.
They asked me to comment on a European research about human augmentation performed by them, and if I would like to take part in an online panel discussion. As previously stated, unfortunately (for me), they chose two other experts: professor Julian Savulescu (Oxford) and Zoltan Istvan, candidate president of the U.S. Transhumanist Party.
Kaspersky Lab had instructed Opinium to do research in July 2020 in 16 European countries, under which the Netherlands, Germany, Belgium and the United Kingdom. In total 14.500 respondents participated in the research [link below].
A few of the most important findings:
92% would physically improve themselves, if possible;
63% would use technology to improve themselves, temporarily as well as permanently;
53% of the proponents think it will improve the quality of their lives.
60% of the Italian respondents think human augmentation is acceptable, opposed to 37% of the Dutch and 25% of the English respondents.
The biggest concerns are that technology does not work regularly (24%), companies will keep technologies to themselves (28%), human augmentation is only available for the rich (30%), technology could damage the body permanently (34%) and criminals will be able to hack the technology (38%).
Summarized, most respondents are confident towards human augmentation. We do need to be aware of the dangers though, especially concerning hackers and the power of big companies.
Documentary The Bleeding Edge
The documentary The Bleeding Edge (i.a. on Netflix) shows medical devices cause problems quite often, among which due to inadequate regulations (and if things go wrong, the consequences are immense for the patient). Not undeservedly, damage to the body is one of the biggest concerns of the respondents in the Opinium research.
Watch the trailer of The Bleeding Edge:
What is the legislation at the moment? And what are the ethical dilemmas?
Legislation and ethics
As a reaction to the Opium and Kaspersky researches, experts state there is an important role for governments in making laws, policies and regulations. Three arguments why this is important, with three analogies: doping, fast food and internet of things.
Doping
If governments do not provide reliable legislation, there is a real chance for an arms race to arise. Not only on a geopolitical scale with super soldiers (see section Impact), but also for individuals. Humans have an intrinsic motivation to keep up with others, with our opponents. The use of doping in high level sports demonstrates it is a nearly indelible phenomenon, especially in cases with significant interests.
A possible scenario is you will need certain upgrades for specific professions, such as a soldier who is genetically modified to combat radioactive radiation better. Do we want that as a society? To what extent is it possible then for an employee to avoid augmentation?
Fastfood
Another analogy is how we handle the fast food industry. In an article by Sabine Weston, professor Julian Savulescu responds to the research of Kaspersky [link below]: '—-quote—-'
This is not only true for eating healthily, but also for smoking, too little exercise, and the use of social media apps. If you ask me, we cannot leave human augmentation technology up to the free market. Policy, legislation and regulation by governments is necessary to minimize risks.
Internet of Things
David Jacoby, researcher at Kaspersky, refers to Internet of Things (IoT). 'There is no legislation concerning Internet of Things.' His conclusion: 'If this is a natural part of the human evolution, it seems to me that we have to pause and learn from the lessons of the past.'
If this is a natural part of the human evolution, it seems to me that we have to pause and learn from the lessons of the past.

David Jacoby (researcher Kasperksy Labs)
At the moment there are few or no regulations for human augmentation technologies. Take for example implantable chips, as I have them installed myself as well. Currently there is no legislation, audits, safety requirements or other agreements about implantables [link below]. They do not fall under the stricter requirements for medical implants and devices.
Professor Tom Joyce (Newcastle University) points out it is difficult to draw a line [link below]. But with the increase in popularity of implants, I think it is sensical governments will look more strictly at this.
Ethics
Laws, rules and international agreements play a huge part, but are limited at the same time. They cannot overcome every situation. Norms and values are important as well, just like morality: in society and how we behave (towards each other) as citizens, consuments, patients and users.
French philosopher Bruno Latour argues that technology even influences our norms and values. He states: 'Technology is the mediator who actively helps shape reality.'
Technology is the mediator who actively helps shape reality.

Bruno Latour (philosopher)
To put in other words, technology is a part of being human and our behavior. It is netted into our morals. As a result of the progress in science and technology, this is continuously shown more clearly, especially now that we install technology into our bodies through implants. The border between human and technology therefore disappears fully.
Criticism
Conforming to Latour, you can state human augmentation is a natural development. Technology makes us human. On the other side critics reckon adjusting the human body might cause us to lose our humanity.
They believe that things like the soul, meaning, feeling, compassion, forgiveness and consciousness are the core of our human being. They fear we will lose that humanity in our aspiration for improvement.
Case: brain chip
An example: if a company develops a brain implant, it will optimize the chip for qualities they can measure or which give the user a financial benefit. At first, the chip will probably be made in such a way that you have quicker access to knowledge or you can control machines directly.
Companies will be less inclined to have the implant enlarge your feeling, compassion or free will. These things are particularly harder to measure and the demand is probably lower. Direct access to knowledge or machines leads to more earnings than if you would have more feelings or compassion.
Technology is not beatific
Another argument given by the opposition is that technology is not beatific. Evgeny Mozorov introduces the term 'technofix' in his book 'To save everything, click here'. With technofix he means people often expect science and technology can solve every problem. Yet most problems are more complex, interconnected and related in a social and cultural context.
The internet has not connected all of us for example. Similarly artificial intelligence will not be able to solve all the problems in the world. Or in terms of human augmentation:
an exoskeleton can help an employee to lift more easily, but in complex situations the robot still needs to be controlled;
a brain-computer interface results into better control of machines, but an employee might become cognitively exhausted faster and more shifts will be needed;
a super soldier with bionic prostheses for more jumping power might get emotional complaints when he finds out he cannot use the superpower outside of work.
Shortly, similar to what was established in section Impact: the use of technology to improve our possibilities offers a lot of opportunities, though we must not focus only on the technology.
At last, what is my vision and conclusion?
My vision
Technology makes us human. Fire, spears, agriculture, the steam engine and electricity were once revolutionary, fascinating and frightening as well. Yet these discoveries and innovations have brought us further as humans. I do however realise this progress is in a lot of cases paired with the expense of other things.
The hunters and gatherers were for example probably healthier and happier than farmers after the agricultural revolution. Steam engines, combustion engines and electricity put a large burden on ecosystems and our planet's nature.
If you ask me, the same applies to the spectacular human augmentation that is already or will be there in our lives. The only difference is they have a bigger impact on us as humans, literally (with prostheses and implants) as well as figuratively (the manner the technologies impact us as humans). Similar to earlier innovations there are positives and negatives.
For us
The trick is to utilize the advantages of technology and reduce risks as much as possible. In that case, the techniques will benefit us rather than counteract. An interesting statement comes from Catholijn Jonker, professor interactive intelligence at the TU Delft and University Leiden. Her remark was about artificial intelligence, a related topic: 'We need to work together with machines. we become more human with machines.'
My motto is: become more human with machines

Catholijn Jonker (professor TU Delft and Leiden)
I think that is what we should pursue. How will technology be able to help us be more human, be a better human, for each other as well as for other people and the world around us? It is about human technology, as thinker and artist Koert van Mensvoort describes beautifully [link below]. He is an advocate for technologies that amplify our strengths and overcome our weaknesses.
Therefore I think we should not allow human augmentation technologies without any restrictions. Ideally, we compare the new technologies to principles and values we consider important. Subsequently we can determine whether, when, where and how we would use that technology. To put it differently: how does the according technology challenge our values and what are our thoughts about it?
Principles
It is difficult for humanity to collectively agree on this subject. Personally, doing nothing is not an option. Below follows a proposal of a few principles might act as guideline for individuals, entrepreneurs, scientists and politicians to be prepared for human augmentation:
Knowledge. It is important to educate ourselves and future generations about the possibilities and the benefits and drawbacks of human augmentation. Consciousness is the first step to a better handling of the developments. It is already happening regarding the use of the mobile phone and media literacy about the use of the internet and (fake) news. We will also need to keep up with new developments such as prostheses, exoskeletons and brain-computer interfaces. Staying up-to-date with scientific and technological progress applies mainly to civil servants, governors and politicians. They make the policy choices and laws that influence society, and us as citizens, considerably.
Responsibility. Given the possibilities, we realize as a society we are responsible for the consequences (for ourselves, others and the planet). We need to take this huge responsibility very seriously and prioritize it.
Values. Apart from technology, we determine our own importances in life. Based on this, we make choices that influence our lives every day, for example concerning safety, freedom, dignity, connection, fulfillment, equality and honesty.
Diversity. If a difference is created between the 'improved' and 'natural', it will be important to handle this diversity respectfully. This is especially important because of our instinct to stand up for our own group. We need to realize our diversity, evolutionarily speaking, makes us resilient as a humanity. Nature teaches us too much uniformity makes us vulnerable. It would be disastrous for humanity if we become more and more alike genetically and a virus develops fatal to humans with that dominant set.
Choice of freedom. Conforming the previous point: everyone has a free choice whether they want to improve themselves and the way they want to do that. The government, or the company you work at, should not be able to require this.
These principles originate from my book Supermens (2020 at Bot Uitgevers).
More than technique
This list is far from complete, but it offers you the idea of what we should think about. Additionally, the elaboration of these principles has little connection with specific developments in science and technology. It is mainly about norms, values, distribution issues and choices made by individuals, companies and governments.
Human Augmentation reaches us all, whatever technology that may be.
There is no ideal or optimal result. We will have to make difficult decisions and weigh factors against each other. At the same time this is no surprise; ethics is exactly about these kinds of decisions. This has been the case since the first Greek philosophers, up until Romanticism, the Renaissance and the current technology ethicists. Ethical philosophy and reflection is a characteristic that was and still is important, but will be even more important in the future.
Conclusion
Human Augmentation is a fascinating, but frightening, development. It fits our time, a period of unlikely technological progress and seemingly overwhelming challenges and risks.
Essence
The essence of human augmentation is that it regards technologies that improve, expand or add physical or cognitive functions. Opposed to the related term human enhancement, human augmentation mostly refers to applications in the work area. Think about exoskeletons for technicians in factories to help them lift more or a headband which a stockbroker can use to communicate quicker with their computer.
Categories
Categories are: replacing limbs using prostheses, supporting the body with for example an exoskeleton and improving bodily functions, like a robotic glove or extended senses.
Yet I see the most potential in the human-machine collaboration category. The core is a faster and more accurate communication between an employee and a robot, computer or other hardware. Companies like Facebook and entrepreneurs such as Elon Musk (with Neuralink) and Bryan Johnson (with Kernel) put a lot of resources, talent and energy into this. This also shows to me it is highly unlikely to put a halt to these developments, as the commercial interests are too huge.
Opportunities and risks
European inhabitants are, according to the Opinium research commissioned by Kaspersky, pretty positive about human augmentation. They are (rightfully) afraid of risks such as hackers, inequality of power (by companies or governments) and inequality in society.
Because of this, a reliable legislation is required to protect us as humans and employees. The human future is definitely one with technology fondly connected with us, but we should not leave the future up to the free market in my opinion.
For me, human technology is the pursuit: technology improves us as humans, in proportion to each other as well as the world. This should be the essence of human augmentation.
In this section, I comment on human augmentation in movies, series and books.
Human augmentation in science fiction
Exoskeletons, prostheses, new (or improved) senses and seamless communication with computers are already a recurring theme in science fiction movies, books and series.
Exoskeletons
Exoskeletons in films are mainly used by soldiers. A few examples:
The movie Edge of Tomorrow (2014) featuring i.a. Tom Cruise and Emily Blunt. The soldiers wear extremely advanced suits in this movie to shoot bullets and rockets.
The movie Elysium (2013) featuring i.a. Matt Damon. In the year 2154, the rich live in space, while the poor still live on earth. Main character Max is a soldier wearing an exoskeleton. A remarkable feature of the movie is the fact he has to undergo surgery in order to attach the robotic suit onto his own joints.
The movie Iron Man (2008) featuring i.a. Robert Downey Jr. Main character Tony Stark created a robotic suit himself which enables him to fly and fire weapons among other things.
Prostheses
Prostheses have been featured in movies for a longer time. Contrasting to exoskeletons, prostheses have been used earlier, and in other applications rather than warfare.
The movie Edward Scissorhands (1990) featuring i.a. Johnny Depp and Winona Ryder. As the title implies, Edward does not possess hands, but rather scissors.
The movie Kingsman: the secret service (2014) featuring i.a. Colin Firth and Sofia Boutella. Gazelle, played by Boutella, has two prostheses as legs.
The movie Mad Max Fury Road (2015) featuring i.a. Tom Hardy and Charlize Theron. Imperator Furiosa, played by Theron, has a mechanical left arm.
The series Altered Carbon (2018) featuring i.a. Joel Kinnaman and Renée Elise Goldsberry. Kristin Ortega's (played by Martha Higareda) arm has been irreparably damaged. A robot replaces her natural arm with a much more powerful bionic variant.
Senses
Similar to exoskeletons and prostheses, additional or new senses have been in our imaginations for a while.
The episode The entire history of you from the series Black Mirror (2014). Using an artificial eye, you can save and rewatch everything you see.
The video game Deus Ex (2000). I played this game together with my brother on the computer. The main character, secret agent J.C. Denton, may buy upgrades and modifications. For example highly improved hearings, night vision eyes and much more.
Human-machine collaboration
Examples of human-machine collaboration:
The book Snow Crash by Neal Stephenson. In this classic, humans plug themselves in to move around in Metaverse, a virtual world.
In the series Westworld, humans work together with machines, but often without noticing. Robots are modelled to people and barely distinguishable.
The books Apex, Crux and Nexus by Ramez Naam. Nanotechnology in combination with neurotechnology results in a new form of communication between humans as well as humans and computers. I think it is one of the best science fiction works in the human augmentation area.
Soldiers
A movie about creating super soldiers, i.a. featuring Jean-Claude Van Damme, is Universal Soldier (1992). Soldiers are modified in a secret project, for instance using genetic modification. A more recent example is Bloodshot (2020) featuring Vin Diesel and Eiza González. Soldier Ray Garrison wakes up in a clinic in Asia having synthetic blood which makes him unbelievably strong.
In my article about human enhancement in the military, I share more examples.
Do you know other examples of human augmentation in books, movies, series or video games? Leave a comment below the article!
Do you want to know more about human augmentation?
Hire me!
Do you want to know more about human augmentation?
Please contact me if you have any questions! Like if you want to invite me to give a lecture, presentation, or webinar at your company, at your congress, symposium, or meeting.
For example, this is a webinar I gave for the Brave New World Conference:
And this talk at. theTU Eindhoven:
---
Resources
I previously wrote these related articles:
These are the external links:
Part definition
Part replacement
Part support
Part improvement
Part machine-human
Part legislation and ethics
Part vision and conclusion
---
How do you feel about human augmentation? Leave a comment!